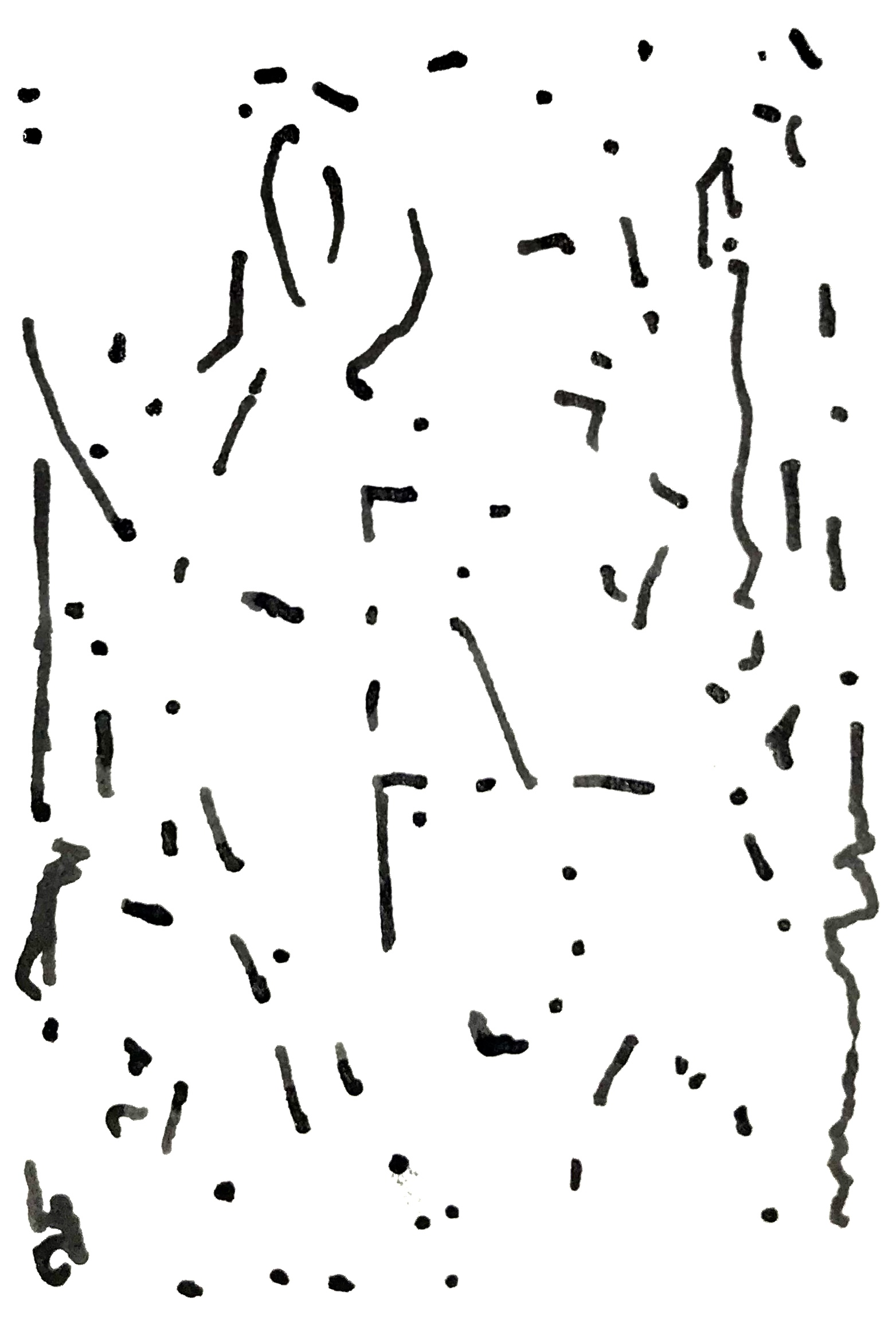 Eco Spring Iro
"We struggle to attune ourselves to people who feel they are not getting the attention they deserve, Cy." The last time they had met in a kafe was when March hit. ­Vilfredo [1] was going on and on about the rise of the attention economy. Cyril [2] didn't care much about the vanity driven markets. He was convinced that personal stories could soon be reduced to a simple collection of data, neatly stringed together by apps: "In a few years, biographies won't be written with no literary pretence anymore, Vil. Paraphrasing someone's life into uniquely constructed sentences belongs to literature's past!" he remarked in excitement about this progress, "Basically, biographies will write themselves. Greedy biographers will simply inquire about the log entries of certain trendy people in the libraries of large companies such as Google Analytics or the resurgent Cambridge ­Analytica."
"We have analysed individual equities performances and even the best-performing human category plunged to 22.81%," Vilfredo continued, as if not really caring about his friend's sentiment. The wall behind him was ­covered with sheets of padded yellow leather. Together with the ­cobalt green glass lampshades hanging from the wooden ceiling, they felt as if they were part of a movie set based in the French Renaissance. This is why Vilfredo really liked going there, meido kafe Geo was the best spot in town to wallow in the lap of the luxury of a wasteful western past. The electric busses were silently moving by the windows, the afternoon sun turned the sky into a soft ­hermosa pink.
"Mid-caps were also the worst this month, with the category down by 30.54%. This is the worst performance since 1987!" Yes, it was true, no period has been as bad as either of these, and this year they were experiencing the most high-profile volatility in the first three months. "Okay, okay, but Vil, you always forget that there have been two more currencies added to the world market: The currency of political correctness and that of fake news. It might be the worst quarter now, but think big, the same trends have been evident since 1987, really. We don't need to focus on the attention-whoring sellouts," Cyril said, hoping to have finally convinced Vilfredo.
"Can I interest you in some taurin tea?" the cute maid interrupted. "It's our treat!" She smiled and her eyes ­almost disappeared under her silky black bangs. Cyril and Vilfredo nodded absently and almost failed to move their spread sheets and charts out of the way for her to place the calamine blue cups filled with the steaming, turquoise green liquid. "I don't understand how you are not upset about this, Cy?! Investors fled, markets plummeted to record low after record low, then they collapsed, now we're in a standstill. The consumers are bored out of their minds. The numbers below show it, look at the returns on a quarterly basis, the categories fell as much as 31.36%, and, again, this is the worst performance since 1987!" Vilfredo shuffled around the papers and accidentally jolted a cup to a tilt followed by a spinning of the porcelain vessel. The striking green liquid spilled all over the charts, washing out some of the numbers. "Haha, pick your poison, I'd say!" Cyril laughed at Vilfredo with a sense of satisfaction, "When the market demands for a good story about a specific, very important person's life, writers will flock to their download stations to get one of those hot files. We can soon construct sentences out of the chain of events that has been stored throughout a person's user history. Information, pure information and its aesthetical glory will derive from the construction of its linkages. Then it will all be about the reinvention of the word 'and'! It's as easy as that, really. We don't need to dwell on today's misconducts, Vil, not at all." They had all become users and very thirsty ones at that. The curiosity of the human society was still unsated, even after thousands of years of existence.
"There is so much to be had and so much of it to show off on social media. A characteristic of the current age is to collectively commandeer as much attention as possible in order to quickly accumulate a staggering amount of power. And power can be accumulated with cats, vacations, a big butt…" Vilfredo burst out in sarcasm. "Memes have been made en masse to compare us to Phoebe Waller-Bridge's old face or whatever, but that is not substantial, Cy." "Vil, you gotta understand, an aesthetical maxim of this day and age is to not do things halfway anymore. Go full force! Express everything to the extreme. What they say doesn't count if they don't say it loud enough." "Have you noticed how addicted I am to sleep, Cy? I am tired, I am tired of giving my attention, giving and giving, but gaining so little." Now Vilfredo sounded defeated, playing around with the puddle of blue-green sugar water and the dissolving black ink in front of him.
"Alright, old pal, I totally agree, this is a tiring economy." Cyril added some salt into the sugary liquid which caused little peach red dots to appear. "Know what? Next time we should meet up for a walk in Sky Park [3]." The Nanjido landfill was contaminated with the municipal's waste, in October of 1999 the leading party started the operation of transforming the space of 58.000 pyeong into a natural ecosystem. It opened on May 1st, 2002. "I know how much you love reverse engineering, Vil!" Cyril gave Vilfredo a flick of the water which was slowly transforming into a Nile blue on the table top. Vilfredo responded in a calmer ­demeanour, swiftly wiping the droplets off his white woolen sweater: "Did you know, 100 kW of electricity is generated by a 30-meter-high tower, and they installed five of these giant wind turbines that are used as an energy source for the park's own facilities. The restrooms are equipped with these pale, lemon yellow lamps that are supplied by natural energy. This electricity powers as much as 1350 LED tubes that are placed along the paths of the park. The verticality of the technology is juxtaposed against the horizontality of the landscape. Ah, yes… I sure do love that park." Cyril's gaze drifted out into the now dark blue sky. He could feel a drowsiness coming over him, too. "Yes, I know…" he said dreamily.
1 Vilfredo Pareto
2 Cyril Northcore Parkinson
3 Sky Park, Seoul, Korea
Words by Jennifer Gelardo
Accompanying Axel Koschier's exhibition märzzimmeraprilzimmer
Show more
Show more